Terms and Conditions
Last Updated: April 2023
Law on Call, LLC makes certain information available on this website, subject to the following terms and conditions. These terms of service ("Terms") cover your use and access to the services, products, software and websites ("Services") that are provided by Law on Call, LLC. and any of its affiliates (hereinafter "Law on Call," "the Company," "we," "our," and/or "us"). By using our Services and website, you agree to be bound by these Terms as well as our Privacy Policy. If you do not agree with these Terms, or the terms contained in our Privacy Policy, then you should not use our Services or this website.
These Terms supersede and replace any other prior or existing agreements, or terms and conditions that may be applicable. These Terms create no third party beneficiary rights.
The information and materials on this website are provided by Law on Call for general informational purposes only and not for the purpose of providing legal advice or giving a legal opinion on any specific facts or circumstances. You should not take, or refrain from taking action based on its content. Law on Call reserves the right to change the following terms and conditions and the services mentioned in this site at any time, in its sole discretion, including to comply with any changes in the law. Images of people may feature current or former personnel or models not connected with Law on Call.
For specific terms regarding our trademark or other legal services, read our Trademark Services Terms and Conditions or Law on Call Retention Agreement.
DISCLOSURE NOTICE REGARDING YOUR PRIVACY
Law on Call is committed to protecting our clients' privacy. We maintain your privacy in accordance with legal professional standards, including applicable federal laws, the attorney-client privilege, and ethics rules governing the legal profession. Please review our PRIVACY POLICY for more information.
LAW ON CALL IS OWNED BY NONLAWYERS
This service is being provided by an entity that is not a traditional legal provider. This entity is owned/managed (fully or partially) by nonlawyers who are not subject to the same rules as lawyers. While Law on Call is owned by nonlawyers, only lawyers and qualified personnel at Law on Call will provide services and legal advice to you. If you have questions, please contact us at 801-889-1980.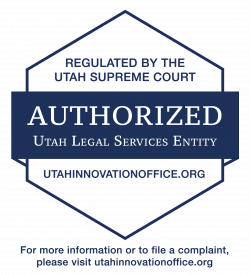 ATTORNEY-CLIENT PRIVILEGE, REPRESENTATION, CONFLICT CHECK
Attorney-client privilege, ethics, and confidentiality rules govern the services provided by Law on Call. By your use of Law on Call's services, you agree and understand that no attorney-client relationship has been formed except as related to the specific matter for which you retained our services. Additionally, no attorney-client relationship exists between you and Law on Call unless we accept your invitation/request to provide services, subject to a conflict investigation, as described below.
While certain federal laws and regulations establish rules and disclosure requirements, they do not limit the attorney-client privilege or the confidentiality rules for information provided to attorneys. The privilege and confidentiality rules are governed by state law, the rules imposed on attorneys under state law, and ethics standards. In circumstances where applicable federal laws might allow disclosure, we will continue to follow the stricter non-disclosure rules of attorney-client privilege and client confidentiality.
If you provide unsolicited information to Law on Call through this website, email, over the phone, or through any other medium, the provision of such information does not, and will not, create an attorney-client relationship between you and Law on Call or any of its attorneys. If you provide information or material through this website in connection with a matter for which we do not already represent you, or for which we have not agreed to represent you, that information and material may not be privileged or confidential and may not be secure. If you e-mail information to us in connection with any matter, you acknowledge and understand that Internet e-mail may not be secure. Please take this into consideration when sending proprietary, confidential or particularly sensitive information as Law on Call will not be held liable for any such breach or disclosure of such information.
Following your engagement of, or your placement of, an order with Law on Call, Law on Call will conduct a conflict check. We may be required to refuse service in the event of a legal conflict of interest, pursuant to the ethical rules prescribed by the applicable State Bar. A conflict of interest may arise if the service you request involves another Law on Call client and your interests are different than, or adversarial to, the other Law on Call client. In such event, Law on Call will notify each client of the conflict of interest, and, unfortunately, Law on Call may be required to deny service to either or both clients. Law on Call will not be considered bound by this Agreement, and no attorney-client relationship shall be formed until it is determined, by Law on Call, that no conflict of interest exists.
INTELLECTUAL PROPERTY RIGHTS AND OWNERSHIP
Law on Call, or its owners, affiliates or subsidiaries, owns all right, title and interest, in and to all Intellectual Property Rights (as defined below) in the Services and websites, and these Terms do not grant you any rights to our Intellectual Property or Intellectual Property Rights. For purposes of these Terms, "Intellectual Property Rights" means all patent rights, copyright rights, mask work rights, moral rights, rights of publicity, trademark, trade dress, service mark rights, goodwill, trade secret rights, and any other intellectual property rights that may exist now or come into existence in the future, and all of their applications, registrations, renewals and extensions, under the laws of any state, country, territory or other jurisdiction.
This website and all information and materials on it are copyrighted: © 2021 Law on Call, LLC. All rights reserved.
ACCEPTABLE USE OF OUR WEBSITE AND SERVICES
In using our websites and Services, you may not, nor may you permit any third party, directly or indirectly, to:
Access or monitor any material or information on any of our systems, using any manual process or robot, spider, crawler, scraper, or other automated means;
Except to the extent that any restriction is expressly prohibited by law, violate the restrictions in any robot exclusion headers on any Service, work around, bypass or circumvent any of the technical limitations of the Services, use any tool to enable features or functionalities that are otherwise disabled in the Services, or decompile, disassemble or otherwise reverse engineer the Services;
Perform or attempt to perform any actions that would interfere with the proper working of the Services, or prevent access to or use of the Services by our other customers;
Copy, reproduce, alter, modify, create derivative works, publicly display, republish, upload, post, transmit, resell or distribute in any way material, information or Services from us;
Transfer any rights granted to you under these Terms;
Use the Services except as expressly allowed under these Terms.
LINKS TO THIRD PARTY SITES
If you decide to access or use any third-party websites that may be linked to this website, you do this entirely at your own risk. We do not guarantee that linked sites are under the control of Law on Call and we are not responsible for the contents of any linked site or any link contained in a linked site, or any changes or updates to such sites. We provide these links to you only as a convenience, and the inclusion of any link does not imply endorsement by Law on Call of the linked site.
NO GUARANTEE
LAW ON CALL IS BEING RETAINED TO PROVIDE LEGAL ADVICE. NOTHING IN THESE TERMS AND NOTHING CONTAINED IN OUR AGREEMENTS OR ATTORNEYS' STATEMENTS TO YOU SHALL BE CONSTRUED AS A PROMISE OR GUARANTEE IN REGARD TO ANY PARTICULAR OUTCOME RELATED TO YOUR LEGAL MATTER. ANY COMMENTS BY OUR ATTORNEYS ABOUT THE OUTCOME OF YOUR MATTER ARE EXPRESSIONS OF OPINION ONLY.
DISCLAIMER OF WARRANTIES & LIMITATION OF LIABILITY
DISCLAIMER OF WARRANTIES. TO THE FULLEST EXTENT ALLOWED BY LAW, YOUR USE OF THIS SITE AND OUR SERVICES ARE PROVIDED "AS-IS" WITH NO REPRESENTATIONS OR WARRANTIES, EITHER EXPRESS OR IMPLIED, INCLUDING, BUT NOT LIMITED TO, IMPLIED WARRANTIES OF MERCHANTABILITY, FITNESS FOR A PARTICULAR PURPOSE AND NON-INFRINGEMENT.
WE DO NOT WARRANT OR GUARANTEE THAT THE SERVICES OR CONTENT ON THIS WEBSITE ARE ACCURATE, RELIABLE OR CORRECT; THAT THE SERVICES WILL MEET YOUR REQUIREMENTS; THAT THE SERVICES WILL BE AVAILABLE AT ANY PARTICULAR TIME OR LOCATION, UNINTERRUPTED, ERROR-FREE, WITHOUT DEFECT OR SECURE; THAT ANY DEFECTS OR ERRORS WILL BE CORRECTED; OR THAT THE SERVICES ARE FREE OF VIRUSES OR OTHER HARMFUL COMPONENTS.
LIMITATION OF LIABILITY. TO THE FULLEST EXTENT PERMITTED BY APPLICABLE LAW, YOU AGREE THAT WE WILL NOT BE LIABLE FOR ANY INDIRECT, CONSEQUENTIAL, SPECIAL, INCIDENTAL, EXEMPLARY OR PUNITIVE DAMAGES REGARDLESS OF THE LEGAL THEORY, OR WHETHER WE HAVE BEEN ADVISED OF THE POSSIBILITY OF SUCH DAMAGES.
UNDER NO CIRCUMSTANCES WILL WE BE RESPONSIBLE FOR ANY DAMAGE, LOSS, OR INJURY RESULTING FROM HACKING, TAMPERING, OR OTHER UNAUTHORIZED ACCESS OR USE OF THE SERVICES OR YOUR ACCOUNT, OR THE INFORMATION CONTAINED THEREIN.
APPLICABLE LAWS
Law on Call and its owners and affiliates control this website from their offices in the United States of America. Law on Call makes no representation that information and materials on this website ("Materials") are appropriate or available for use in other locations, and access to them from states or territories where their content is illegal is prohibited. Those who choose to access this site from other locations do so on their own initiative and are responsible for compliance with applicable local laws. You may not use or export the Materials in violation of U.S. export laws and regulations.
The validity, interpretation and performance of these Terms and Conditions and the Materials, and any claim relating to the Terms and Conditions and the Materials shall be governed by the substantive laws of the State of Utah, without reference to choice of laws provisions. Any action or proceeding in connection with or arising out of these Terms and Conditions and/or the Materials may be brought only in a court of record in Salt Lake County, Utah or in the United States District Court for the District of Utah in Salt Lake City, Utah. All parties who access the Materials hereby consent to be subject to the personal jurisdiction and venue of such courts. Any rights not expressly granted herein are reserved by Law on Call.
INDEMNIFICATION
You agree to protect, defend, indemnify and hold Law on Call and its parents, subsidiaries, shareholders, members, officers, directors, managers, employees, agents and representatives (together, "Indemnified Parties") harmless from and against any and all claims, causes of action, liabilities, judgments, penalties, losses, costs, damages and expenses (including attorneys' fees and all related costs and expenses for litigation and/or arbitration) suffered or incurred by the Indemnified Parties, including, without limitation, any claim arising from:
Any actual or alleged breach of your obligations under these Terms or the terms contained in Law on Call's Privacy Policy;
Your wrongful or improper use of the Services and/or Materials;
Your violation of any third-party right, including without limitation any right of privacy, publicity rights or Intellectual Property Rights;
Any other party's access and/or use of the Services and/or Materials with your unique name, password or other security code;
The failure of any third party, including but not limited to the United States Postal Service or any commercial delivery or courier service, to provide delivery or courier services accurately and on time;
Any loss, damage or destruction of your Legal Documents by any cause whatsoever;
Any claims or action brought against the Indemnified Parties relating to your failure to maintain updated information on any of the Indemnified Parties' websites.
BILLING
You agree that, at the time Law on Call's services to you conclude, as determined by Law on Call, you will immediately pay all unpaid charges incurred by our attorneys, which are charged by the hour at our attorneys' prevailing rates for time spent on your matter. No initial retainer shall be required. You agree that you will reimburse any filing fees and other fees fixed by law or assessed by courts or public agencies in connection with your matter, which shall be included on your invoice, at the time your matter has concluded.
AUTO-PAY BILLING
Some of our Services are billed via an automatic payment feature unless you choose to opt out of this feature within your client account. Clients who opt-out will be invoiced for payment. All accounts using auto-payment must provide us with valid and current credit card information and you agree that Law on Call or our owners, partners or affiliates are authorized to charge such credit card for all purchased Services as well as fees incurred in providing you with Services.
Specifics Regarding Auto-Pay Features:
Customers enrolling in Law on Call's Legal Services program must enroll in monthly automatic payments and you authorize Law on Call or its partners to charge your account monthly for Services.

All auto-payments will be charged to the credit or debit card on file for the business entity or individual.

Customers enrolling in Law on Call's Legal Services program will receive a notification to their online account at least five (5) days prior to the initial auto-charge. Thereafter, customers' accounts will continue to be auto-charged monthly without notification.
All auto-payment services must be canceled at least one (1) full business day before the next charge date to avoid paying for the next month of Services. All cancellations must be handled through your online account.
Auto-pay charges that fail to process will be rendered and identified as an unpaid invoice in your online account and subject to the fees and procedures outlined in these Terms.
Law on Call monthly subscription or auto-pay charges that fail to process will result in the cancellation of all applicable Services and features.
DECLINED PAYMENTS/COLLECTIONS
If we don't receive payment ("Non-Payment"), you agree to pay all amounts due upon demand to resume or cancel your Services. Following any such Non-Payment, you also authorize the Company to charge any and all outstanding fees and penalties due that may result from such Non-Payment.
You agree that you are liable for all third-party collection agency recovery fees and charges. You are solely responsible for any and all fees charged to your credit card by the issuer, bank, or financial institution including, but not limited to, membership, overdraft, insufficient funds, and over-the-credit-limit fees. By failing to notify the Company of billing problems or discrepancies, you agree that you waive your right to dispute such billing discrepancies. We may modify the price, content, or nature of the Service at any time. We may provide notice of any such changes by email, notice to you upon log-in, or by publishing them on our website.
TERMINATION OF SERVICES
Termination by us. We may terminate a Service or Services at any time, with or without your consent or for good cause. If discharge occurs, or in the event we withdraw for "cause," we shall be compensated in a reasonable amount based on our Attorney's customary hourly fee for services rendered up to the time of Attorney's withdrawal and based upon the fee schedule as selected by Client at the time of retention. "Cause" shall include, but is not limited to: (1) your breach of these Terms and/or our Privacy Policy, (2) your breach of any applicable Retention Agreement between us and you, (3) your refusal to cooperate with Attorney or to follow Attorney's advice on a material matter or any other fact or circumstance that would render Attorney's continuing representation unlawful or unethical, (4) your failure to follow Attorney's advice deemed reasonable, (5) your failure to provide accurate, complete and current information for your account, (6) the inability to locate you after reasonable efforts are made, (7) your failure to pay for your Services, and (8) any other lawful reason.
Termination by you. You may terminate a Service or Services at any time. Upon termination of Services, you will be required to pay all existing charges whether accrued through billable hours or monthly Services rendered up to the date of cancellation.
MODIFICATIONS
We may revise these Terms from time to time, and will always post the most current version on our website. By continuing to use or access the Services or Materials after the revisions come into effect, you agree to be bound by the revised Terms.
WAIVER, SEVERABILITY & ASSIGNMENT
Law on Call's failure to enforce a provision of these Terms is not a waiver of its right to do so at a later date. If a provision of these Terms is found to be unenforceable, the remaining provisions of the Terms will remain in full force and effect. You may not assign your rights and obligations under these Terms. We may assign our rights or obligations to any successor in interest of any business associated with the Services to the extent approved by law.
FORCE MAJEURE
Law on Call shall not be considered to be in breach or default of these Terms, and shall not be liable for any cessation, interruption, or delay in the performance of its Services or other obligations by reason of earthquake, flood, fire, storm, lightning, drought, landslide, hurricane, cyclone, typhoon, tornado, natural disaster, act of God, Gods or of the public enemy, epidemic, famine or plague, action of a court or public authority, change in law, explosion, war, terrorism, armed conflict, labor strike, lockout, boycott, or other similar event that is beyond our reasonable control, whether foreseen or unforeseen (each a "Force Majeure Event"). If a Force Majeure Event continues for more than sixty days in the aggregate, we may immediately terminate our Services and shall have no liability for, or as a result of, any such termination.
ARBITRATION
You and Law on Call, LLC understand and agree to submit any disputes between us to binding arbitration in Salt Lake City, Utah, by a single arbiter to be mutually agreed upon by the parties. If the parties cannot agree on an arbiter within seven days following the initial demand for arbitration by either party, the arbiter shall be appointed by the presiding judge of the Salt Lake City District Court, Salt Lake City, Utah. Disputes subject to binding arbitration include, but are not limited to, claims of negligence or legal malpractice which you may assert against Law on Call, LLC or its employees, owners or affiliates. This paragraph shall not operate to limit any party's right to enforce, to the extent necessary, an arbiter's judgment in a court of law.
MISCELLANEOUS
a. If any provision of these Terms is held to be illegal, invalid or unenforceable, such provision shall be struck and the remaining provisions shall remain in full force.
b. Law on Call's failure to act with respect to any failure by you or others to comply with these Terms does not waive Law on Call's right to act with respect to subsequent or similar failures.
c. These Terms set forth the entire understanding and agreement between you and Law on Call with respect to the subject matter hereof.
d. Any cause of action or claim you may have with respect to this Agreement or the Website must be commenced within six (6) months after the claim or cause of action arises or such claim or cause of action shall be barred.
e. Law on Call reserves the right to seek all remedies available at law and in equity for violations of these Terms, including without limitation the right to block access from a particular internet address.
BY SIGNING UP FOR LAW ON CALL'S MONTHLY SUBSCRIPTION SERVICE, OR BY SUBMITTING A LEGAL REQUEST ORDER ON THIS WEBSITE, YOU ACKNOWLEDGE THAT YOU HAVE READ, UNDERSTAND, AND AGREE TO BE BOUND BY THE TERMS AND CONDITIONS HEREIN AND BY LAW ON CALL'S PRIVACY POLICY.